A true experience of escape and relax
The Thai Spa ritual draws inspiration from the millennial beauty secrets of Thai women. Ancestral massage techniques, sensual and inebriating scents and the use of the purest ingredients to help restore the natural balance of body and mind, to instill a profound and long-lasting sense of wellness.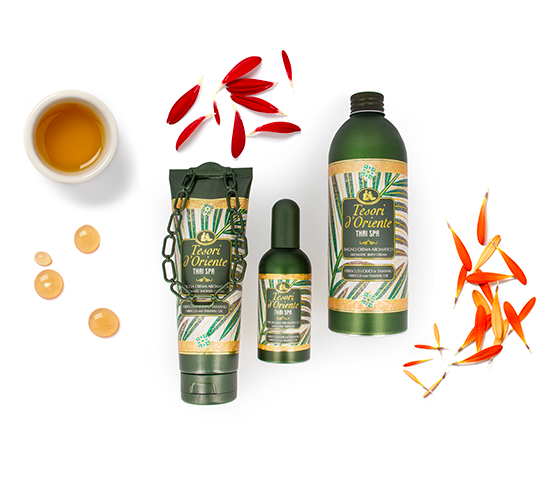 The Fragrance
The fragrance, mysterious and evocative, tantalizes you to close your eyes and start your journey towards the discovery of this mystical Land, cherishing its calming and revitalizing effects. The hypnotic and relaxing fragrance of Hibiscus is blended with the warm and sensual aroma of Tamanu oil, embracing body and soul in a profound wellness.
Ingredients
HIBISCUS AND TAMANU OIL Hibiscus is a plant of the mallow family, originally from Thailand. Its flower has been used since ancient times to extract scents and beauty ointments; rich in oleic and linoleic acid, with moisturizing, nutrient and tonic properties.
Tamanu is a tree originally from Tropical Asia. The cold pressing of its fruits produces an intense, enchanting, bright green elixir of beauty called "Oil of the Gods" for its numerous cosmetic virtues. Rich in fatty acids and vitamins, it provides an effective soothing and restoring action.